Serving In A Disaster
Disasters are going to happen. Having a force that is prepared physically, mentally and spiritually in today's society is a must. At Warrior Family we want to ensure that our deployment teams are ready at a moment's notice to respond to the call for assistance.
These men and women, our Chaplains, have been trained in Crisis Response for both their community and the nation. Warrior Family Ministries Crisis Response team handles natural disasters and man-made disasters.
To serve on our Crisis Response team requires additional extensive training. All of the Chaplains are required to have C.I.S.M. (Critical Incident Stress Management) for both individuals and groups within their first year of service. In addition, to serve they must have C.P.R., First Aid, C.E.R.T. (Community Emergency Response Training), Emotional & Spiritual Care In A Disaster, Spiritual & Psychological First Aid, Strategic Response To A Disaster, and other trainings that would enhance their ability to deploy.  The Crisis Response Team also has additional trainings that include Assisting Individuals In Crisis, Emotional & Spiritual Care in a Disaster, Grief Following Trauma, Managing School Crisis, Application With Children and other trainings that would enhance their ability to deploy. 
We are structured like the military when it comes to deployments. We have a Rear Detachment, an ADVON and the Main Body. These teams of responders never deploy alone. It takes a lot of organization and planning to get ready to go. In our organization for example, the Rear Detachment is made up of Chaplains who stay back and man the communications, push supplies and individuals out to the site and handle the administrative side of a deployment. Then there is the ADVON or Advance Deployment Team. This team consist of 2-4 individuals who will go ahead of the Main Body to scope out the needs, locate where we will serve, make the proper connections, have a place for us to set up base or a place for us to sleep and eat. They will send information back to the Rear Detachment so the rest of those deploying (the Main Body) can prepare and pack. Each department works together to safely get our team to the area we are assigned to serve.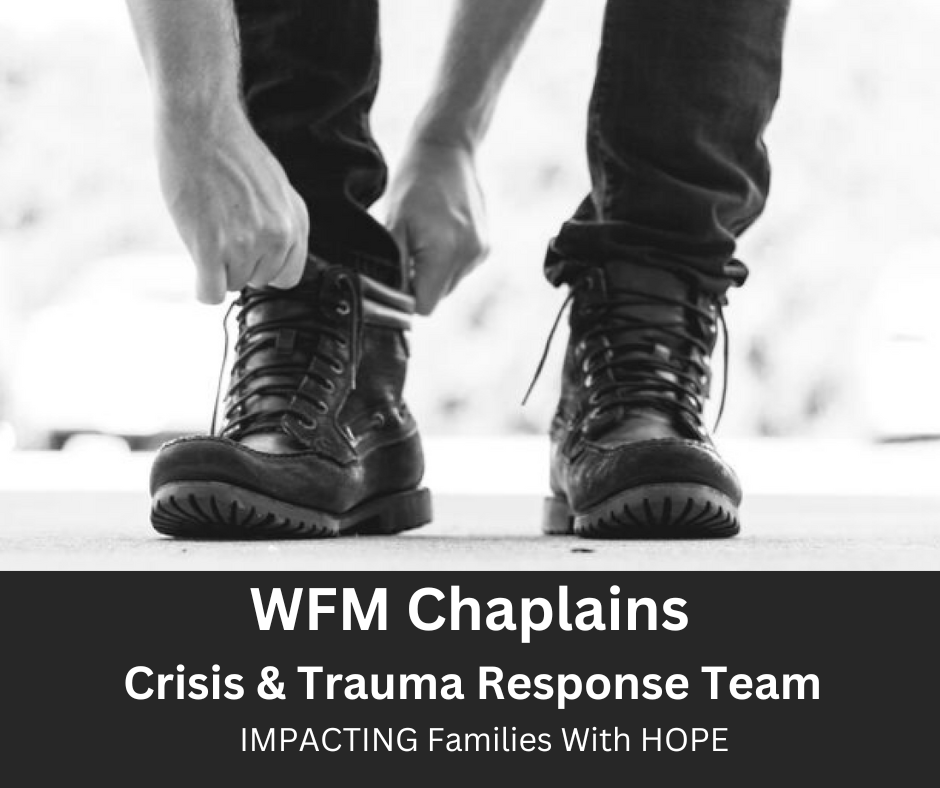 Crisis Response Team 
Our Crisis Response Team deploys to natural disasters such as tornados, hurricanes, floods and fires. They are not exclusive to these deployments. Many other organizations will also send out their teams. We support each other and never go above the authority in any situation. 
This team of rapid responders not only serve in the shelters but may also serve in food tents, removing debris, locating individuals or in distribution centers. As Crisis & Trauma Chaplains we may be called to minister to people who have suffered great loss. Remaining calm in the midst of chaos is a state of mind for these teams. Remember, we are the ministry of presence. 
Crisis Response Team
The Crisis Response Team responds to "man-made" disasters. This can include shootings, industrial accidents, transport accidents and any other man-made situation. Just like our Rapid Response Team, we have a Rear Detachment, Advance Deployment Team and Main Body. Our Chaplains never respond alone. We also report to the main authority in any situation.
Because of the nature of disasters, it is important that debriefings happen each day with a team if possible. Taking mental and emotional care of our Chaplains while the deployment is ongoing and continuing with this care upon returning home is a good way for them to process the event, what their duties were and the things they witnessed.